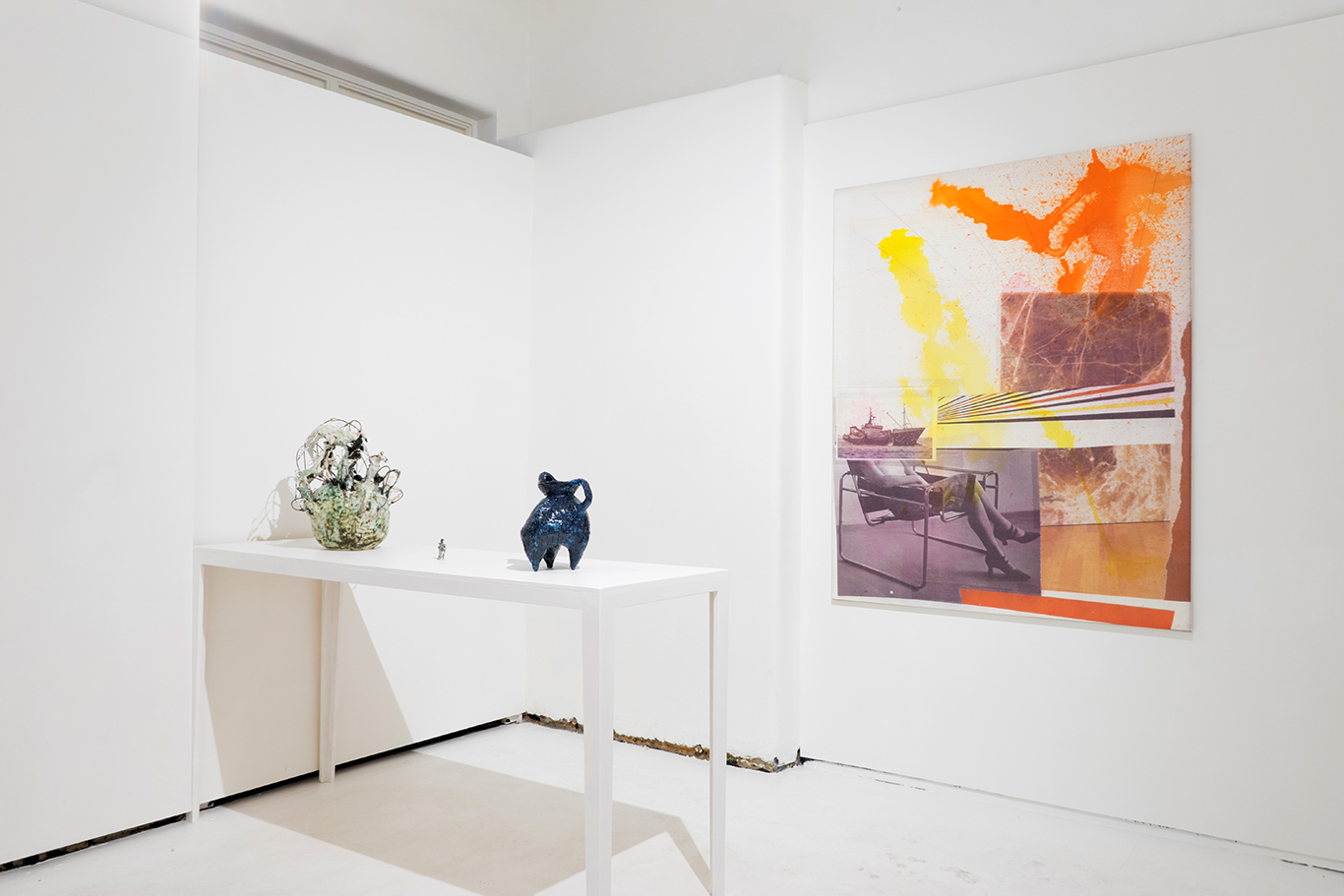 1

of 6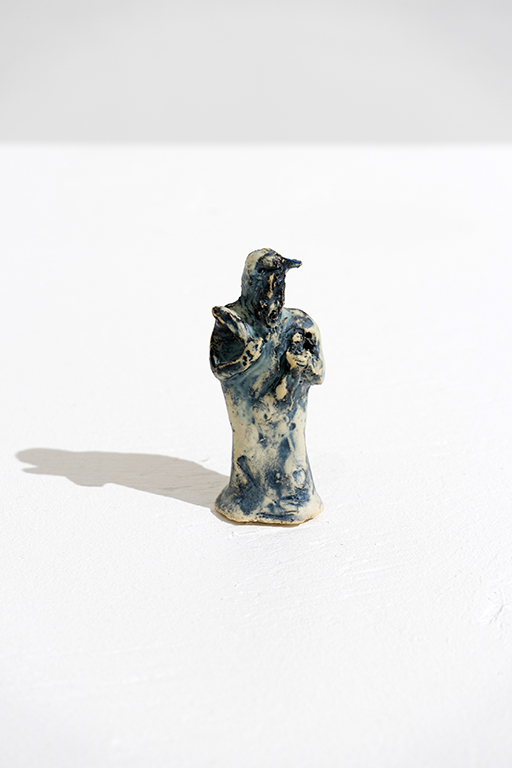 1

of 6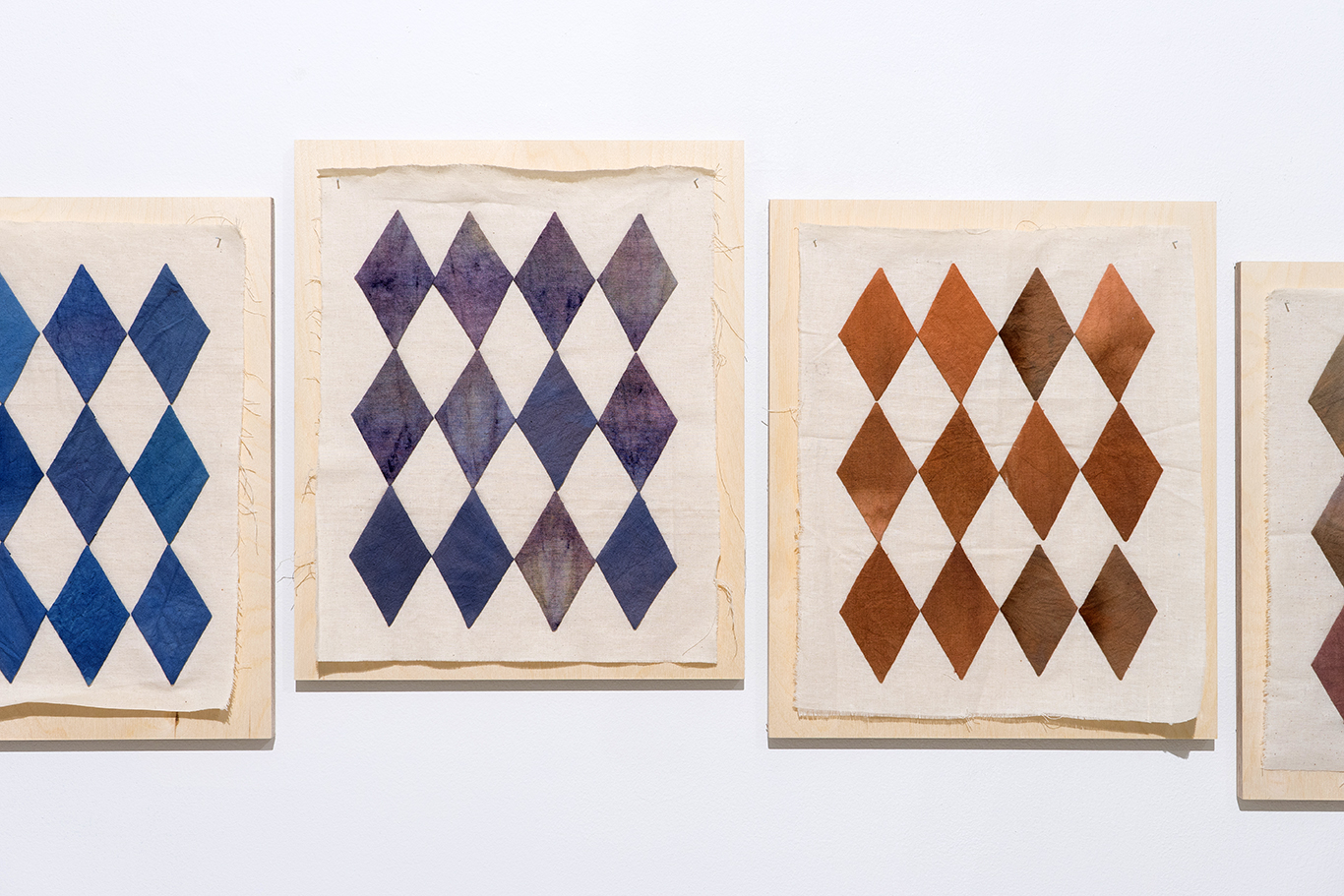 1

of 6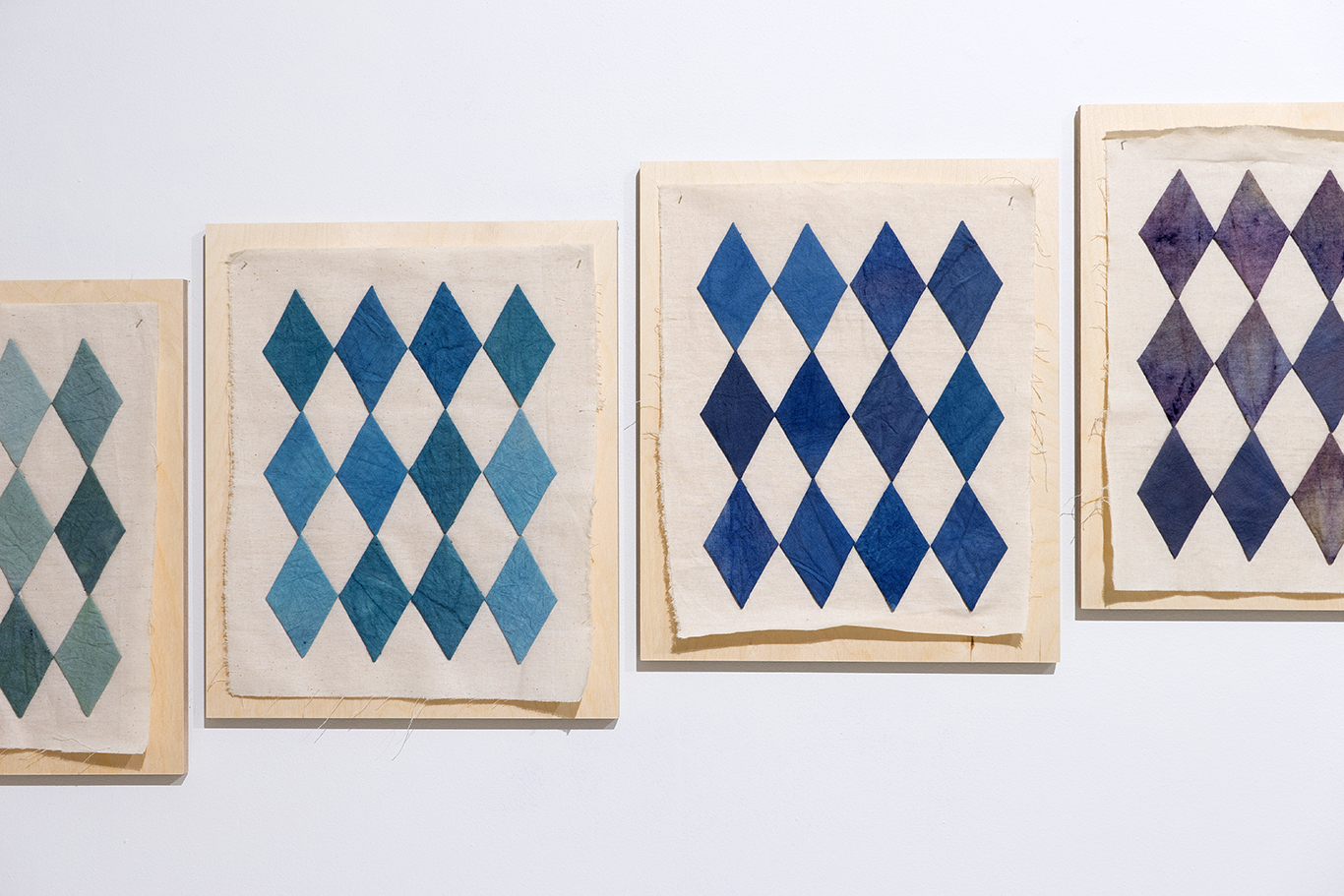 1

of 6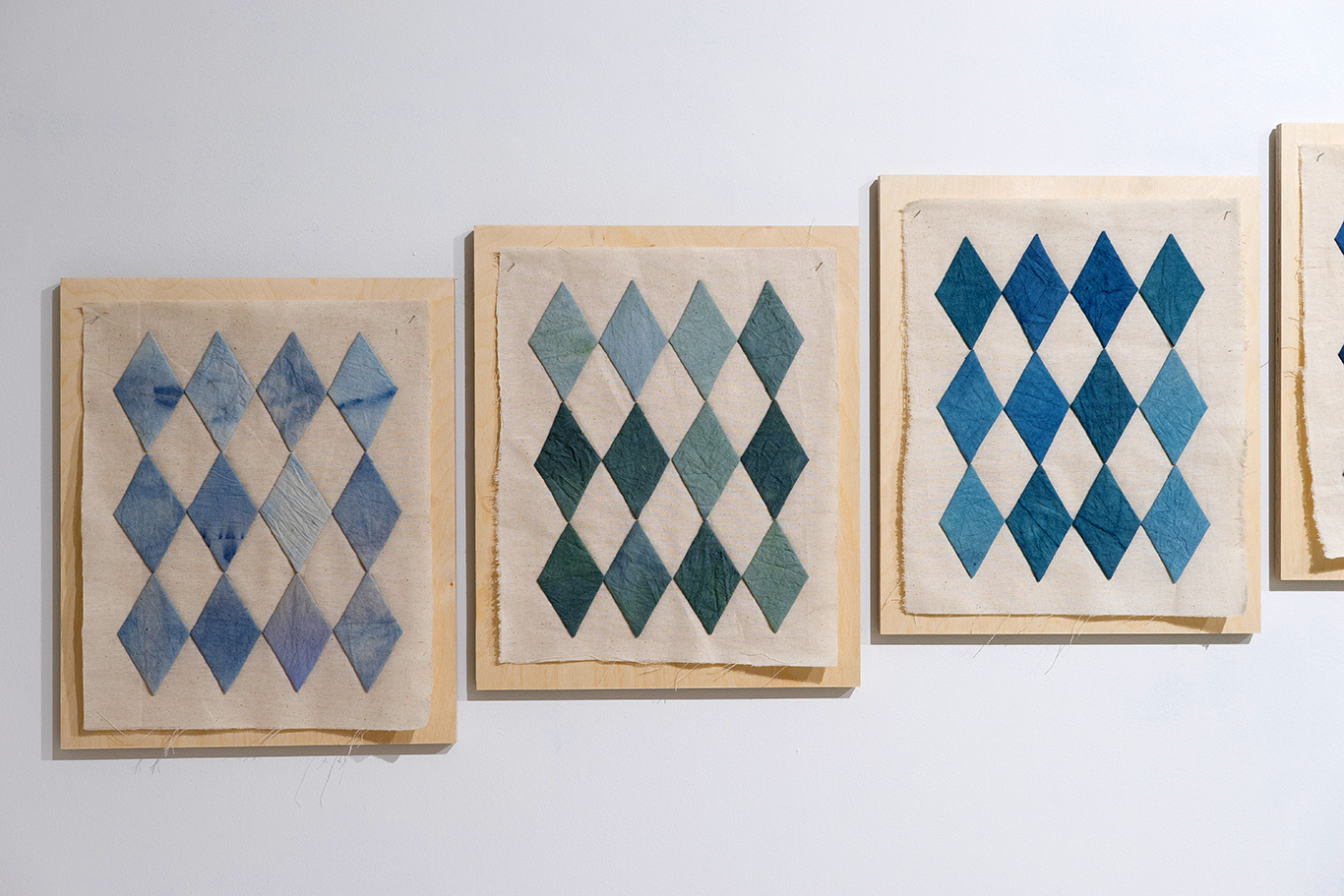 1

of 6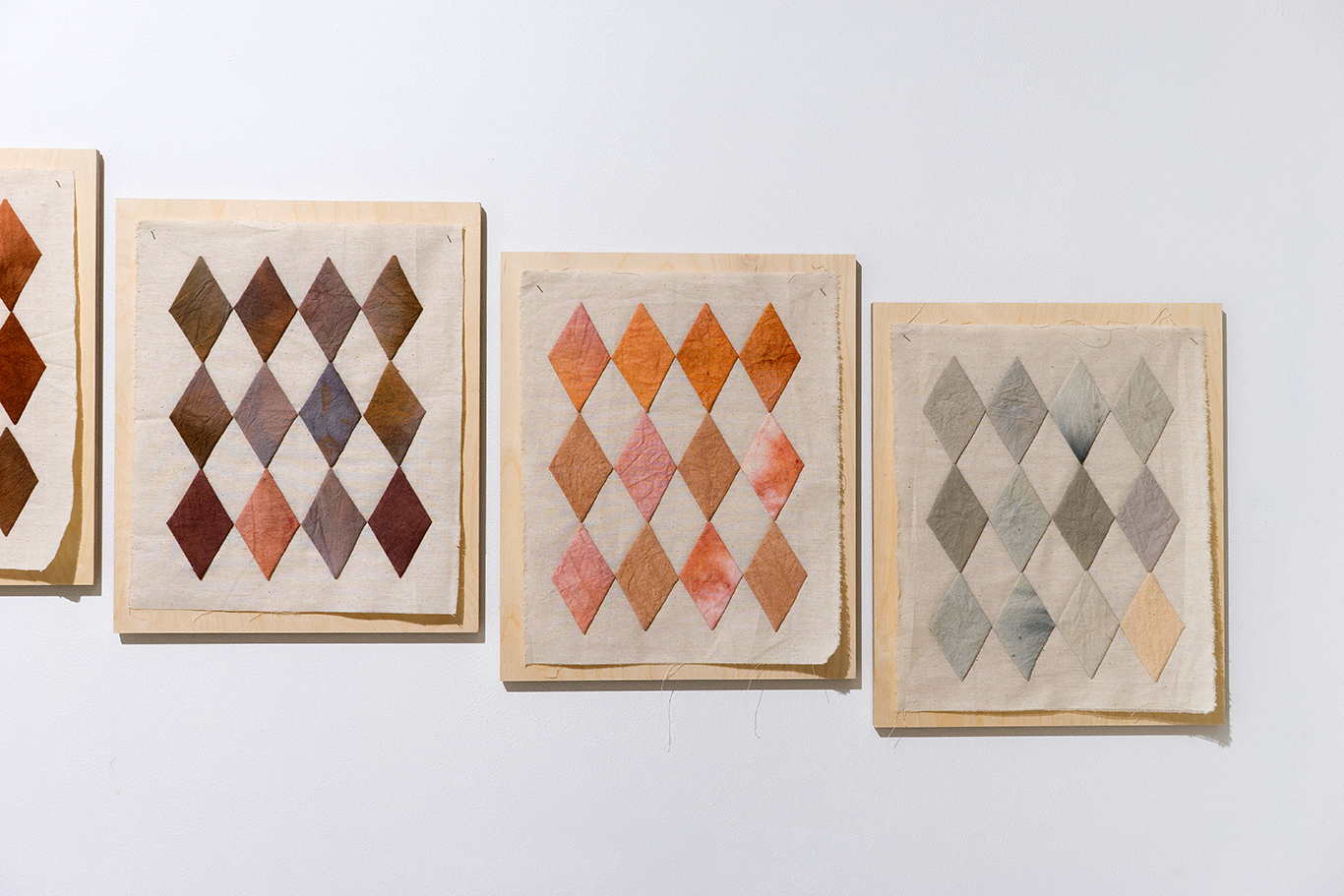 1

of 6
Starlie Geikie, Marina Mason and Paul Sloan
17 Aug. – 8 Sep. 2018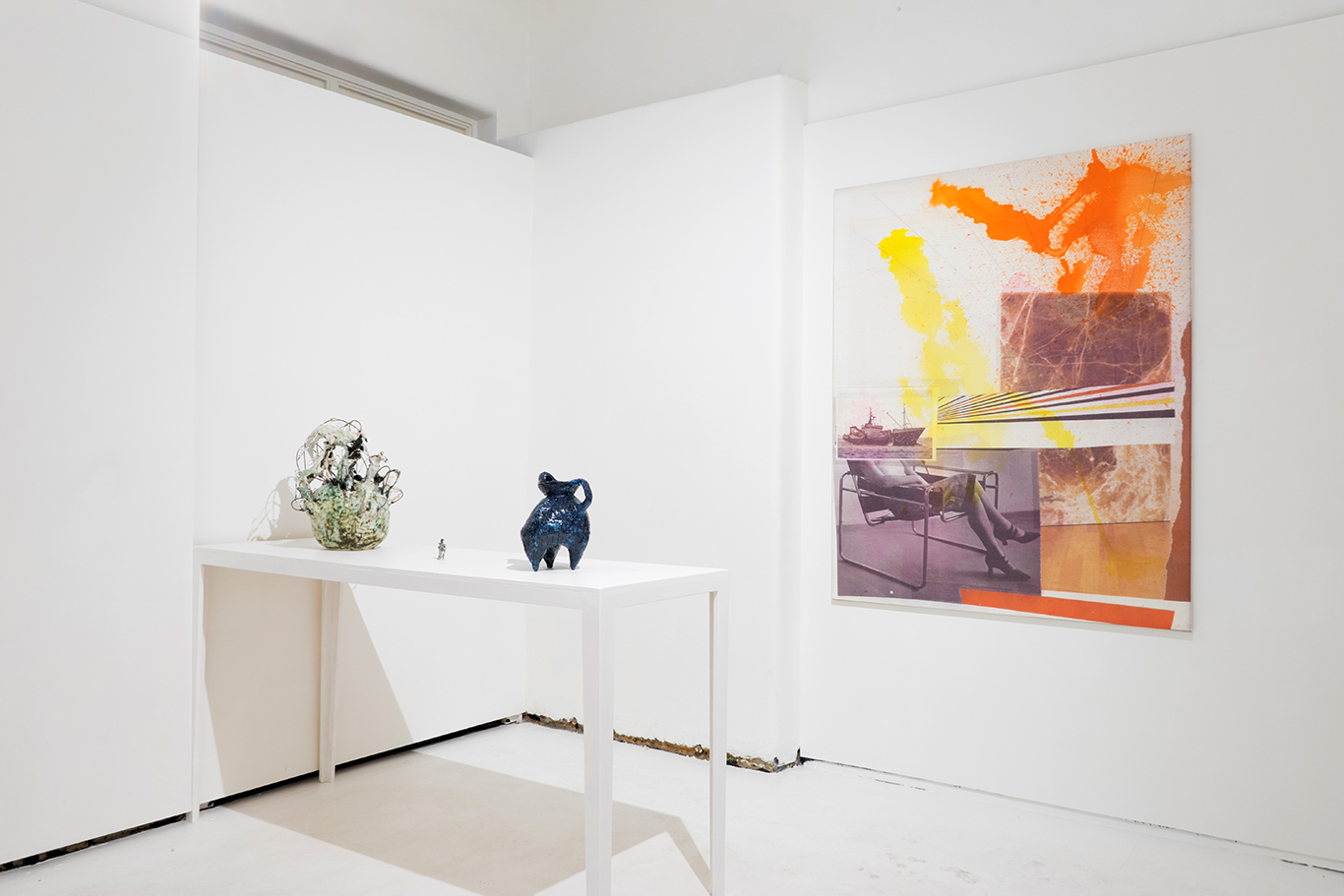 Photos courtesy of Ruben Bull-Milne.
Starlie Geikie
Born 1975, Lismore, New South Wales.
Lives and works in Melbourne.
Starlie Geikie's practice archives the past and ruminates on the future. Her work includes myriad references to utopian architecture, armour, cinema, feminism and images associated with the 1970s, generating both visual and historic dialogues. These references are often mediated by the artist's reinterpretation of techniques such as quilt-making and stitching. Her work questions the implied passivity of craft practices and employs unexpected materials such as timber, woodstain, leather and rope —often in works of ambitious scale—to upend such associations. These materials and influences combine to emerge as forms for psychic defence against an internal or illusory battle. Geikie's work represents boundaries and psychic barriers, alluding to powerful opposing forces such as isolation and connection, control and surrender.
Geikie completed a Master of Fine Arts at RMIT, Melbourne in 2002 and has exhibited in artist-run and commercial spaces nationally and internationally. She was a committee member of artist run initiative ClubsProjects inc from 2002-05. Selected solo exhibitions include Vélites, c3, Melbourne, 2014; Saracens, Utopian Slumps, Melbourne, 2013; If I am not, put me there; and if I am, so keep me, Art Forum Berlin, Berlin, Germany, 2010; Low and Lone, Canberra Contemporary Art Spaces, Canberra, 2008; Open Studio, 18th Street Arts Centre, Los Angeles, USA, 2006; O Mother, Gertrude Contemporary Art Spaces, Melbourne, 2002. Group exhibitions include Craftivism, touring regional Australia and includes Bega Valley Regional Museum, 2020, Mornington Peninsula Regional Gallery, 2019 and Shepparton Art Museum, 2018; From Will to Form: 2018 TarraWarra Biennale, TarraWarra Museum, VIC; Starlie Geikie, Caves Gallery inc., Melbourne, 2018;
Fin, Utopian Slumps, Melbourne, 2014; Melbourne Now, National Gallery Victoria, Melbourne, 2013; Future Visions, Divonne-les-Bains, France, 2013; A Secret Life of Plants, Fremantle Arts Centre, Fremantle, Western Australia, 2009; Reason and Rhyme, St Paul St Gallery, Auckland, 2011; Starlie Geikie and Lauren Berkowitz, Neon Parc, Melbourne, 2008; The Horror of Tradition, Andrew Shire Gallery, Los Angeles, 2008; and Primavera 2002: Young Australian Artists, Museum of Contemporary Art Australia, Sydney, 2002.
Geikie is featured in 'Australiana to Zeitgeist' published by Thames and Hudson, 2017. Her work is held in the collections of Ararat Regional Art Gallery, Artbank Australia, the Chartwell Collection, New Zealand and numerous private collections in Australia.
Marina Mason is a visual artist based in Melbourne. Working with clay, paper and other materials her intuitive and often playful approach to art making seeks to pull drawing and painting into sculpture.She draws upon art history and the magic of archetypal images to express themes of common human experience. The horse, in particular is a recurring motif, symbolic, yet personal, reflecting the energy and intuition of the feminine.
2009 Master of Visual Art, Monash University
2001 Diploma of Visual Art, Box Hill Institute
1977 Diploma of Education, Sydney Teaching College, University of Sydney
1976 Bachelor of Arts, UNSW
EXHIBITIONS
SOLO
2021 Fountain, Tinning St Presents, Melbourne
2019 Untethered, Tinning St Presents, Melbourne
2018 Out Stealing Horses, Tacit Gallery, Melbourne
2015 Horse, Stephen McLaughlan Gallery, Melbourne
2013 Insist, Stephen McLaughlan Gallery, Melbourne
2012 Roundabout St KIlda, St Kilda Town Hall Gallery, Melbourne
2011 Merry Go Round and the Sea, Stephen Mclaughlan Gallery, Melbourne
2010 Recent Work, Stephen McLaughlan Gallery, Melbourne
2008 Interior spaces, Paintings Monash University Post Graduate Lounge
2007 Work on paper, Red Gallery, Melbourne
2004 Out of the Wood, Woodblock Prints, Red Gallery, Melbourne
1999 Recent Paintings, Roar Studios, Melbourne
SELECTED GROUP
2021 Bayside Local, Bayside Gallery, Melbourne VIC
2018 CAVES Gallery, Melbourne
2017 Clunes Ceramic Award (finalist), Clunes, VIC
2017 Horse Ladies, Brightspace Gallery, St Kilda VIC
2016 Survey Show SOCA, Brunswick VIC
2015 ANL Art Prize, Melbourne
2014 Rick Amor Drawing Prize, Art Gallery of Ballarat, VIC
2011 ANL Maritime Art Prize, Melbourne
2009 Ruby Gap Exhibition, Stephen McLaughlan Gallery, Melbourne
2007 A Passion for Painting, Long Gallery, Montsalvat, Eltham
2005 Darebin Art Show, Bundoora Homestead, Bundoora
2003 Sally's Paddock Exhibition, Patricia Autore Gallery, St Kilda
2001 Paintings From The Kimberleys, Wiregrass Gallery, Eltham
1999 Five Painters, Roar Studios, Melbourne
Paul Sloan
Paul Sloan was born in Belfast, Northern Ireland and immigrated to South Australia in the early 1970s. After working as a Photographer's Assistant and a Musician, Sloan went on to study Fine Arts. He holds a Bachelor of FineArts (Hons) from the Royal Melbourne Institute of Technology (RMIT).
Based in Adelaide, South Australia, he has been the recipient of a number of prestigious grants. Most recently Sloan has undertaken residencies in Helsinki, Finland and Beijing, China.
In 2014 Sloan undertook a three-month Australia Council for the Arts residency at HIAP on Suomenlinna Island, a UNESCO world heritage site off the coast of Helsinki. In 2015 he undertook a month-long residency in Beijing, at the Red Gate Gallery.
Paul Sloan exhibits both nationally and internationally and is represented by Hugo Michell Gallery, Adelaide.